NEWS
COLLOQUE 2019

19-20 Janvier 2019 à Paris-Roissy Colloque international et interdisciplinaire SYNERGIE CHIRURGIENS-DENTISTES / CHIROPRACTEURS ...

Entrevue Chiropratique n°6 par KIRIS ...

Entrevue Chiropratique n°6 par KIRIS VITAE à LIKER et PARTAGER sans modération pour faire connaitre ...

Rejoignez l'ICAK

Suite à l'enseignement des 100 heures de Kinésiologie Appliquée en France par le Docteur David Leaf, il ...
Découvrir NEWS
TRAINING MMT
Découvrir TRAINING MMT
TRAINING NOT
Découvrir TRAINING NOT
Our philosophy
The CHIROLISTIC® concept stems from both the Chiropractic and the holistic philosophy: man is a whole, and the structural, metabolic and emotional factors interact closely and continuously. The CHIROLISTIC© approach seeks to understand the different expressions of the body to help maintain its health and well-being capital.

Our body has been through millennia on all continents thanks to its great adaptability to the environment, consequently, it has been able to survive and maintain a healthy balance.

According to the chiropractic concept, we have within us all the resources necessary to maintain our balance. This healing power is based on the integrity of the functions of the nervous system which controls all of our vital functions. Unfortunately, the nervous system can be affected by one of the following three factors: structural, biochemical and emotional.

Since our birth, our body has been exposed to different situations that could disrupt its balance.


Intrauterine trauma, difficult labour, too early passing over from one phase of development, head trauma or shock, fall, shock, car accident, strenuous effort, sudden movements, lifting a weight in an incorrect position, excessive physical activity without rest ...

Métabolic Causes
Any chemical that interferes internally or externally with the body, unbalanced meals, deficiency in vitamins and minerals, metabolic pollution related to our eating habits ...

Emotionnal Causes
Emotional distress linked to our past and our education in all areas: family, social, academic, professional ... Stress imposed by the pace of modern life.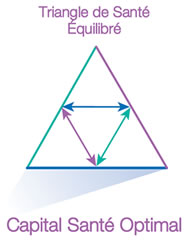 In fact we live daily at all three levels: structural, metabolic and emotional
The CHIROLISTIC© approach will help to evaluate and optimize each factor of the triangle of health as well as decrypt malfunctions between them. The goal is to maximise these factors so that they can be fully expressed in the body and generate an optimal health capital. If we can live in harmony with ourselves, our well-being and health are optimized, our body works at 100%, it is more attentive, responsive and available. Our ability to adapt is increased, we are more in harmony with our environment.

Thanks to our treatment protocols we seek:
• To give you the best advice on your condition.
• To identify and correct the causes at the origin of your condition.
• To correct associated neurological disruptions and effectively optimize your nervous system.
• To strengthen your entire articular and muscular system.
• To analyze and revive systems relating to nutrition, reproduction, and immunity.
• To check your needs for vitamins, minerals, specific trace elements.
Release tension related to emotional factors.